Sleep Apnea in
San Antonio
Sleep apnea, also called OSA (Obstructive Sleep Apnea), is a common condition that causes a variety of issues for both the sufferer and even their partner.
At William J Cruse DDS, Dr. Cruse is proud to offer non-invasive solutions that help patients reduce snoring and improve sleep, naturally.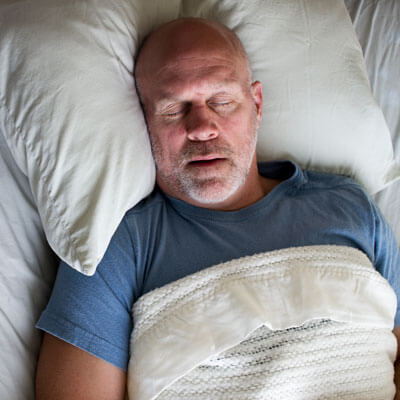 What Is It?
When the back of the throat experiences a loss in tone, sleep apnea can occur. That means that when a person falls asleep, the upper airways may become blocked, which causes a reduction in oxygen flow.
Common symptoms of sleep apnea can include regular snoring, fatigue during the day, dry mouth in the morning, headaches, and even moodiness.
Sleep apnea can also affect the bed partner of the sufferer, as loud snoring and frequent tossing and turning can lead to a less than ideal night of sleep.
Effective, Non-Invasive Treatments
While many sufferers assume a CPAP machine is the only solution, Dr. Cruse is happy to offer a less invasive option for patients.
At William J Cruse DDS, patients are often helped with a custom-fit mouthguard designed to offer immediate improvement in cases of mild sleep apnea. The mouthguard is designed to gently pull the jaw forward, which allows the airway to open and lets a person breathe easier.
Suffering from Sleep Apnea?
Book an appointment with William J Cruse DDS and get back to getting a good night's sleep. Dr. Cruse is here to help with non-invasive, effective treatments. Get started today!
CONTACT US

Sleep Apnea North Side San Antonio, 78258 TX | (210) 496-7000