Dentures in San Antonio
Having a confident smile is important to so many aspects of our lives—relationships, overall health, and lifestyle. Losing a natural tooth is difficult; losing several or all can be very traumatic and emotionally devastating.
Dentures have been an acceptable solution for many years, although many were ill-fitting. Modern dentures are a custom-made solution for this problem. They're lightweight, comfortable, & most importantly, closely resemble natural teeth. As always, William J Cruse DDS offers nothing but the highest quality materials and service to our patients who choose to be fitted with dentures.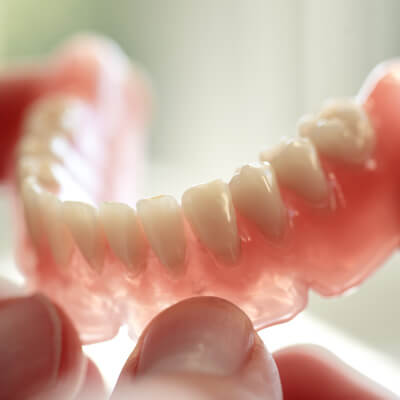 Choosing the Right Option
Partials—If only some teeth are missing, partial replacement may be the right choice. These removable appliances are designed to fit around existing teeth. In some cases, existing teeth have to be crowned to support the denture. For patients who haven't decided on a permanent replacement, a partial can be a temporary solution.
Full Dentures—A full plate appliance is what most people think of when they hear "dentures"—the upper plate covers the roof of the mouth, and the lower one is shaped like a horseshoe to fit around the tongue on the lower jaw-line. The snug fit is designed to create suction against the gums, keeping the denture in place. Adhesive is available if suction alone is insufficient, and recommended in many cases for the lower portion.
Implant Supported Dentures—These look like traditional dentures, but are typically smaller. Because suction is unnecessary, there's no need to cover so much gum tissue or the roof of the mouth. These prosthetics may be fitted with attachments that snap over implants, or permanently attached.
Taking Care of Your Dentures
Dentures, just like natural teeth, must be cleansed of plaque, food particles, and other debris. This means daily brushing and visits to the dentist for minor adjustments. Keeping the dentures in good shape will help keep the soft tissues of the mouth healthy. Dentures should be removed at night to allow the gums to rest while sleeping.
Find Out More
Contact our office with any questions and concerns; we're here to help. Call today!
CONTACT US

Dentures North Side San Antonio, 78258 TX | (210) 496-7000