Explore Our Services
Find out how the office can help patients of all walks of life. Below are some general dentistry services offered in our practice.
Consultations and Dental Exams: No matter how long it may have been since a patient has visited the dentist, we are proud to offer thorough consultations and exams to meet their individual needs.
Dental Cleanings and Deep Cleanings: Keeping teeth clean and plaque-free is one of the best ways to keep smiling without issues for years to come. That said, patients can be confident Dr. Cruse will only suggest deep cleanings when he's sure they're the best choice for their health.
Composites: Composites (or fillings) are dental restorations that aim to repair and rebuild teeth that have been harmed by cavities.
Digital X-rays: X-rays are typically included in a general dentistry exam and allow the dentist and patient to get an inside look into any problems hiding deep within the oral cavity. X-rays are extremely helpful for diagnosis and developing custom care plans.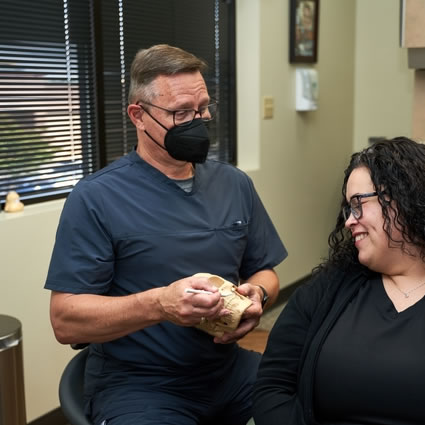 Dental Sealants: One of the many dental hygiene treatments offered in the practice is a dental sealant. These sealants are painted onto a patient's teeth to effectively and painlessly protect them from decay.
Fluoride Treatments: To keep tooth enamel healthy and strong, fluoride treatments may be recommended as part of checkup and cleans.
Custom Mouthguards: Patients active in sports should always keep their teeth safe. We help by crafting custom athletic mouthguards to ensure the teeth remain safe during athletic events of all skill levels, from children to adults and everyone in between.
Dental Night Guards: Nighttime teeth grinding can lead to painful symptoms, including headaches, TMJ issues, and muscle tension, among others. Thankfully, we're able to mold custom fit dental guards to alleviate teeth grinding, also known as bruxism.
Oral Cancer Screening: To ensure patients stay healthy for the long term, the team is proud to conduct oral cancer screenings, which can help identify soft tissue abnormalities that may signal present or future cancer.
Learn More Today
Have questions? Reach out to the practice to learn more or book a visit today. The team proudly welcomes patients of all ages and stages of life, and can't wait to help them achieve their goals in oral health.
CONTACT US

General Dentistry North Side San Antonio, 78258 TX | (210) 496-7000