New Patients at William J Cruse DDS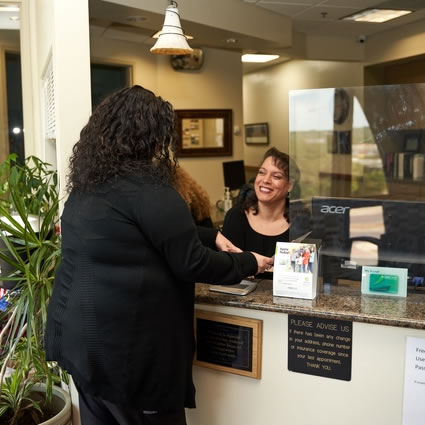 When patients arrive at our practice, we welcome them by name and with a smile.
Our friendly staff makes sure everyone is comfortable in our space. Have a cup of coffee while you wait—we value our patients' time and make every effort to run on schedule. We ask that our online forms be completed and returned as soon as possible to assist us in our efforts.
Please remember to bring ID and insurance cards with you. If there are prior X-rays or dental records available, please bring those as well. Insurance verification will be done prior to the visit whenever possible.
When You Arrive
After our staff introduces themselves and provides a warm welcome, they'll review all paperwork before the patient moves to the next step. An assistant will take them to the area where X-rays and photographs are taken. Next, they'll make their way to the hygiene room, where the hygienist assesses the periodontal platform and health of the patients' teeth and gums.
When these tasks are completed, Dr. Cruse will come into the room to review the results, assess the patient's condition, and identify any needs. He'll present all available options and give his recommendations for care. A treatment plan will be created and discussed, including duration and cost. Here, patients will never be surprised. Instead, they'll always get honest, effective solutions for their oral health needs.
Financial Responsibility
Payment is requested at the time of service. We're considered out-of-network with most insurance companies, but we'll file the claims as a courtesy. This ensures patients get the most from their benefits with the least out-of-pocket expense.
We accept major credit cards as well as CareCredit®. Please speak with a staff member if there are any further questions.
Book A Visit Today
There's no reason to delay any longer. We make it easy to get your teeth and mouth healthy again, and keep up with your oral hygiene. Make an appointment to get started today!
CONTACT US

New Patients at William J Cruse DDS | (210) 496-7000